Pool Fencing in O'Fallon, St Peters, St Charles, Wentzville, St Louis Missouri
Free Fence Estimate: (636) 720-9969
When you need professional pool designs and installation, turn to Custom Design Fence & Deck for a team of experts dedicated to exceeding your expectations.
We provide customized designs and expert installations based on our customers' unique vision and architectural landscape. Our team utilizes the highest quality materials to ensure maximum safety and durability. We complete all projects on time and on budget!
If you need supplies and materials for a DIY fencing project, we've got you covered! Visit our showroom and ask one of our fencing specialists for more information.
Custom Pool Fence Design & Installation
Serving O'Fallon, St. Charles, St. Louis, and all surrounding regions in Missouri
Swimming pool fences can come in a wide variety of materials, designs, and sizes. Custom Design Fence & Deck can help create a unique fence that fits perfectly around your pool's specifications and shape. All of our projects maintain compliance with building codes and regulations.
Options for pool fences include:
Mesh fences
Glass fences
Guardian pool fences
We design each project with close attention to aesthetics and seamless integration with your landscape. Our pool fencing experts in O'Fallon can evaluate your pool and provide our recommendations on what works best to maximize safety, that meets codes, has ease of maintenance, and appeal.
Guardian® Fencing
We proudly retail Guardian® Pool Fence Systems, the safest and strongest pool fence around. Guardian's mesh pool gate is one-of-a-kind.
Specially engineered and designed, the gate is:
Self-closing
Self-latching
Key-lockable
Climb-resistant
Guardian pool fences are the safest in the industry, and they are the only pool fences that meet Los Angeles County building code. The Premier Pool Fence line comes with a patented Locking Deck Sleeve as well.
Why Is This The Safest & Strongest Pool Fence In The World?
Over the course of our 25+ years in business we have tested a variety of pole materials for strength and durability. The combination we found to be the safest and strongest is a PVC reinforced Marine Grade 6063 T6 aluminum pole secured to a ½" diameter chambered stainless steel rod.
The added stainless steel rod makes this pole virtually unbreakable at the fulcrum point and allows us to drill smaller holes in your deck: dime-size compared to half-dollar like most of our competitors and our Original Pole.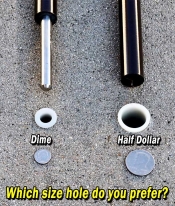 Guardian's Premier Pool Fence is our newest, strongest and most convenient pool fence system yet. We use the same top quality mesh on all of our pool fence systems and our Premier Pole is the only we use with our custom designed Pet Mesh.
We have gone extra lengths to provide you with the safest and strongest removable mesh pool fence pole in the industry. Need more proof? Watch our Premier Pole Strength Test Video to see how our product compares against other pool fence poles on the market.
No Holes Pool Fence
We carry Guardian's unique, no-hole pool fence system – the only one of its kind in the world. The No Holes Pool Fence is perfect for customers who are looking for a mesh fence system that doesn't require any drilling. Instead, the bases of each mesh fence are filled with water or sand, making them very difficult to move and effectively preventing children from having easy access to the pool.
Contact us today for more information about installing a Guardian Pool Fence System in your home.
Importance of a Fence for Pools
Fencing around swimming pools is important because it can minimize accidents and drowning incidents. A fence around a pool can be installed with locks and latches, which can restrict access. It is a great way to keep young children from falling into a pool and to add aesthetic appeal to your property.
Efficient, Professional, Quality Pool Fence Installations
Custom Design Fence & Deck is known for our efficient and professional installations done right the first time. We have been consistently recognized as one of the top fencing companies by various publications in the region. Get the best in value, service, and quality with our team.
Get started by calling (636) 720-9969.